International Holocaust Remembrance Day with Rebecca Erbelding
Rescue Board: The Untold Story of America's Efforts to Save the Jews of Europe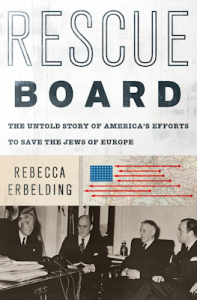 America has long been criticized for refusing to give harbor to the Jews of Europe as Hitler and the Nazis closed in. Now a lauded Holocaust historian tells the extraordinary story of the War Refugee Board, President Franklin D. Roosevelt's little-known effort late in the Book Signing to follow.war to save the Jews who remained.
In January 1944, a young Treasury lawyer named John Pehle accompanied his boss to a meeting with the president. For more than a decade, the Jews of Germany had sought refuge in the United States and had been stymied by Congress's harsh immigration policy. Now the State Department was refusing to authorize relief funds that Pehle wanted to use to help Jews escape Nazi territory. At the meeting, Pehle made his best case–and prevailed. Within days, FDR created the War Refugee Board, empowering it to rescue the victims of Nazi persecution, and put John Pehle in charge.
Book Signing to follow.